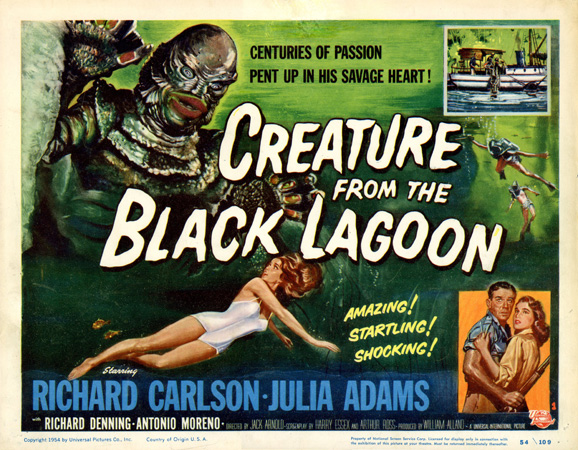 IMDB
TRAILER
Director:
Jack Arnold
Writers:
Harry Essex, Arthur A. Ross, Maurice Zimm
Cast:
Richard Carlson ... Dr. David Reed
Julie Adams ... Kay Lawrence (as Julia Adams)
Richard Denning ... Dr. Mark Williams
Antonio Moreno ... Carl Maia
Nestor Paiva ... Captain Lucas
Whit Bissell ... Dr. Edwin Thompson
Storyline:
A scientific expedition searching for fossils along the Amazon River discover a prehistoric Gill-Man in the legendary Black Lagoon. The explorers capture the mysterious creature, but it breaks free. The Gill-Man returns to kidnap the lovely Kay, fiancée of one of the expedition, with whom it has fallen in love.