Evil Dead 3: Army of Darkness (1993)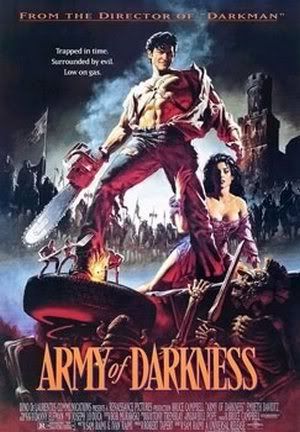 Režija: Sam Raimi
Scenarij Sam i Ivan Raimi
Uloge:
Bruce Campbell……..Ash
Embeth Davidz……...Sheila
Marcus Gilbert……....Lord Arthur
Richard Grove………..Duke Henry the Red
Ian Abercrombie……Wiseman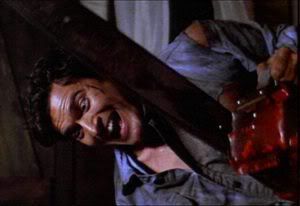 IMDB ocjena: 7.6/10 (45,944 glasova)
SADRŽAJ:
«- Pošto je u drugom dijelu Ash bio usisan kroz vremenski portal on se nađe u 14. stoljeću (točnije negdje na početku 1300 godine) i to niti manje niti više u srednjovjekovnoj Engleskoj (barem tako navodi engleska vokacija glavnih glumaca). Ubrzo biva zarobljen od strane Gospodara Artura (ne nije onoga iz vitezova okruglog stola) i njegovih vitezova, koji ga zabunom zamjene za jednog od svojih zakletih neprijatelja, ljudi Crvenog Henrika. Skoro izgubivši glavu u borbi protiv Deaditesa, ipak se dokazuje i daje nadu svim ljudima u Arturovom dvorcu da je on prema drevnoj legendi 'onaj koji je pao sa nebesa koji će ih osloboditi terora Deaditesa' tzv. oslobodioc od zla. Nevoljko pristaje na zadatak koji mu je povjerio jedan od Arturovih mudraca (Ian Abercrombie aludira na Merlina):
- da se dokopa na nesvetom mjestu demonske knjige Necronomicona – Knjige Mrtvih, koja će ljude osloboditi zla zauvijek, a našeg heroja Asha vratiti u njegovo stoljeće, te prije nego što knjigu uzme mora izgovoriti magične riječi: «Clatto, Verata, Nicto».
Ulaz u to iskušenje će ga navesti na mnogobrojne 'akcije' za vlastiti život, a koje ukljućuje bijeg od našeg starog znanca kandarijskog demona koji opsjeda ljude, minijaturne Ash gnome s one strane ogledala, te na kraju protiv svog najvećeg neprijatelja koji ga je već jednom skoro zadavio u drugom dijelu – Zlog Asha. Na kraju krajeva uz mnoge pripetije uspijeva se domoći demonske knjige, no zaborava krivo izgovara magične riječi koje mu je mudrac dao i tad otvara kletvu koja budi – Deadite.
Sada Ashu ne preostaje ništa drugo nego da opet postane herojem, te se protiv vojske mraka na kojoj je Zli Ash bori svim primjesama koje mu nudi njegov Oldsmobile, skračen dvocijevka, motorna pila i znanost 20. stoljeća. Hoće li i po treći put Ash uspjeti pobijediti zlo i vratiti ga nazad u mračne ponore druge dimenzije, te vratiti otetu djevojku Shielu, koja je upala pod zle čini Zlog Asha i vratiti se u svoje doba ili će se Zli Ash dokopati Necrnomicona i osuditi svijet na vječni mrak?»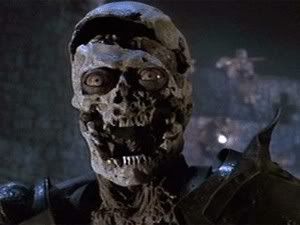 O filmu:
- Odlična, na trenutke spektakularna zabava kombinirana sa najboljom Bruce Campbellovom performanskom (
HorrorHR
)
- Ovdje opet svojim bravurama Campbell iznosi cijeli film na svojim leđima, te tako nas u svakoj svojoj sceni zna nasmijati do suza, a u akcijskim scenama nam dao da maksimalno uživamo (mogao bih reći i da je oživio duh starih akcijskih junaka poput Douglasa Fairbanksa i Errola Flynna, koji su i uz to što su bili akcijski junaci bili i slamatelji ženskih srdaca) (
dr_gonzo
)
- Među brojnim obožavateljima kultnog trash serijala "Evil Dead" slavnog Sama Raimija, mnogo je onih koji će "Vojsku smrti'" otpisati tek kao nepotreban dodatak, ali i mnoštvo onih koji upravo taj film smatraju ponajboljim naslovom trilogije. Istina je vrlo vjerojatno i ovaj put negdje na sredini... (
TV Mediaking
)
- Za razliku od zadnjih dva nastavka koja su sadržavala puno krvi i nasilja, treći nastavak je potpuno mlak. Toliko je mlak da ga je i moj 8 – godišnji rođak gledao bez problema i straha. No, opičenog humora nimalo ne nedostaje iako je to više opet, dječji humor u stilu blesavih komedija. Naročito, u sceni na groblju kada ga zarobe kosturi… (
john_constantine
)
RECENZIJE sa ovih prostora:
HororFilm Pplayground predstavlja...
HorrorHR
TV Mediaking
Movieworld